Photographs
Holy Transfiguration Monastery, Brookline, Massachusetts
Archimandrite Panteleimon
"Archimandrite" Isaac, Faithful Disciple who said:
"If Father Panteleimon goes to hell, I want to be there with him."
"Metropolitan" Ephraim, The Faithful Enabler
Fr. Panteliemon and Oregon "Priest" Constantine Parr
---
Fr. Panteliemon - Biography - Part One
Patriarch Athenagoras, who baptized Fr. Panteleimon and was his God father, with the Pope.
Father Conon, prison mug shot.
Former college roommate of Fr. Panteleimon.
Elder Joseph the Hesychast
Father Elias, the Last Clairvoyant Elder of Mount Sinai,
who would not speak to Fr. Panteleimon
Maria Pateras and her daughter, the Righteous Mother Irene
Annunciation Convent, Oinusis, Greece
Incorrupt Relics of Mother Irene in the Annunciation Convent.
Young Monk Panteleimon, who called himself an elder while still in his twenties.
The Holy Clairvoyant Elder Ieronymos
Elder Arsenios and the Fathers of New Skete
John Adondakis (Fr. Isaac) is shown on the bottom right.
Father Ieronymos, with Father Panteliemon weeping in the background.
Father Cyril, who was forced to work every day in the presence of a naked woman.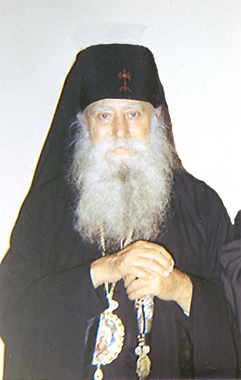 Metropolitan Kallistos, who read exorcisms over Fr. Panteleimon.
The Righteous Father John the Romanian, whose incorrupt relics are in the monastery of St. George Khozeva.
The incorrupt relics of our Righteous Father John the Romanian. They are not whole, because Father Panteleimon had the nerve to order one of his fingers to be broken off.
The Russian Convent in Lesna, France, where Father Panteliemon was caught attempting to steal a portion of their relics.
The Holy Clairvoyant Archbishop Andrew of Novo-Diyevo,
who punished Fr. Isaac for his disobedience.
The reposed Clairvoyant Archbishop Andrew in his casket.
Fr. Isaac placed his numb arm on the holy archbishop and asked for forgiveness and healing.
Archbishop Andrew,
who rebuked Fr. Panteliemon for his immorality.
Metropolitan Vitaly,
who did not want to deal with the Panteliemon affair, and delayed its prosecution for almost two years.
Archbishops Alypy of Chicago and Antony of Los Angeles,
who were the Episcopal Investigating Committee assigned by the Russian Church Abroad to examine the accusations against Fr. Panteliemon. They determined that because of the evidence against him, and because of his conduct during the investigation, Fr. Panteliemon should be brought to spiritual court.
Ss. John of Shanghai and Philaret the Confessor
The Brotherhood of the Elder Joseph at New Skete.
(L to R) Fr. Athanasios (brother of the Elder Joseph), Fr. Ephrem, Elder Arsenios (co-ascetic), Fr. Joseph the Younger, Elder Joseph, Fr. Theophylactos, Fr. Charalambos
---